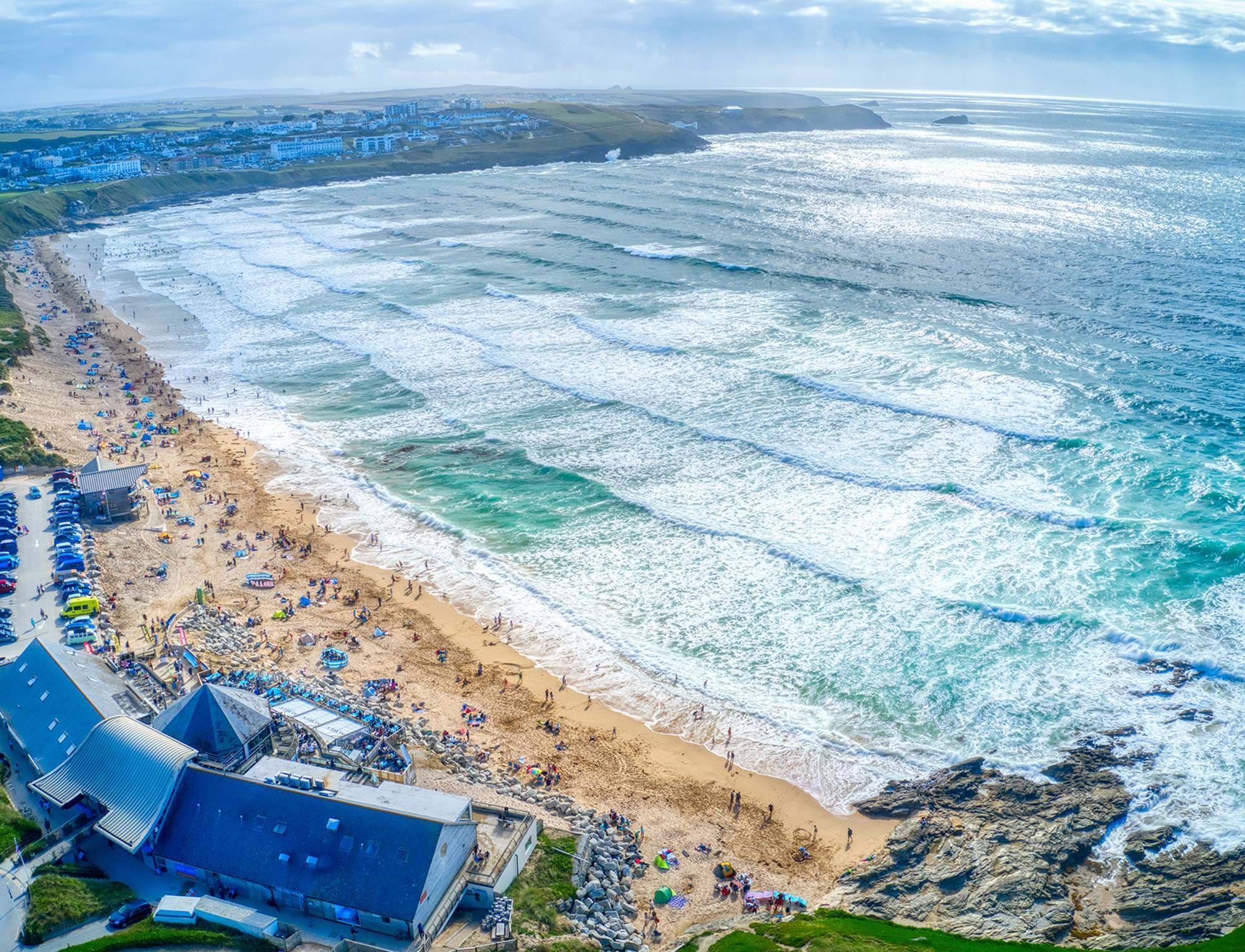 Come to Cornwall
Experiences without the Air Miles
Escape the chaos and cancellations of foreign breaks and keep your feet firmly on the ground with a Great British seaside holiday. We've curated all the reasons to come to Cornwall and experience the mellow magic of the coast.
It's time to board!
There's nothing more exhilarating than immersing yourself in the Atlantic rollers on Fistral Beach, just seconds away from the hotel. The Med doesn't really do waves, but Newquay is home to some of the finest surfing beaches in Europe. Surf Sanctuary is The Headland's onsite school to ensure maximum fun in a safe environment. 
Sandy toes and salty kisses
Besides Fistral, Newquay boasts a further ten beautiful beaches, including the likes of Towan, Great Western and Porth. The shelter afforded by those tucked in behind the headland provides golden sand and child-friendly water, ideal for those wanting a splash in the shallows.
Water way to relax!
The Headland's magnificent Aqua Club offers luxury swimming and wellbeing. Architecturally, its sleek curves soothe the senses, with three indoor pools and three more outside. Have a post-swim drink and dine at the poolside Mediterranean-inspired restaurant The Deck.
Sundowner cocktails
It's the scenario of which we all dream. As the sun sets on another day of your vacation, kick back with a pre-dinner drink and watch the sea meet the sky. The Terrace offers a variety of classics including a Cosmopolitan, Espresso Martini and Strawberry Daiquiri, to be enjoyed whilst drinking in the sights and sounds of the shore. Cocktails are also available from The Deck and Samphire restaurants.
Walk the walks, or charge up a bike
The South West Coast Path runs past the front door of The Headland, giving keen hikers and gentle strollers a choice of scenic circuits to experience. If you're wanting to explore a bit further afield, you can hire one of the hotel's ebikes and tackle some more demanding terrain. Either way, the reward will be panoramic views in all directions.
Sea safaris
There's not much land between the north coast of Cornwall and America and a boat trip from Newquay Harbour will illustrate that fact. Sharks, dolphins and seals are commonplace in Cornish waters. Alternatively, you may fancy a spot of sea fishing to while away an afternoon.
Head East to Eden
This internationally-renowned, instantly recognisable venue is just half an hour away from Newquay by car. Once a barren landscape as a former clay mine, it has been transformed into a beautiful global garden. And if you're really missing your holiday abroad, it even has a giant Mediterranean biome to explore.
Go with the flow
If you prefer something more serene than surfing, why not have a go at paddle boarding and discover the hidden gems of our coastline? Alternatively, take the plunge and try snorkelling or scuba diving for an entirely different perspective on the sea.
The finest fish
Cornish produce is championed in The Headland's kitchen – and fish takes centre stage on a mouth-watering menu. In The Samphire restaurant, start with slow cooked Cornish crab in an aromatic bisque, or Cornish red mullet. For the main course, enjoy line caught cod and Cornish lobster in a smoked butter sauce, or opt for Dayboat Cornish John Dory with a confit of fennel.
Enjoy all this and more without clocking up the Air Miles or waiting in line at baggage reclaim! Simply choose from a five-star hotel room, or a coastal cottage for your next seaside escape.