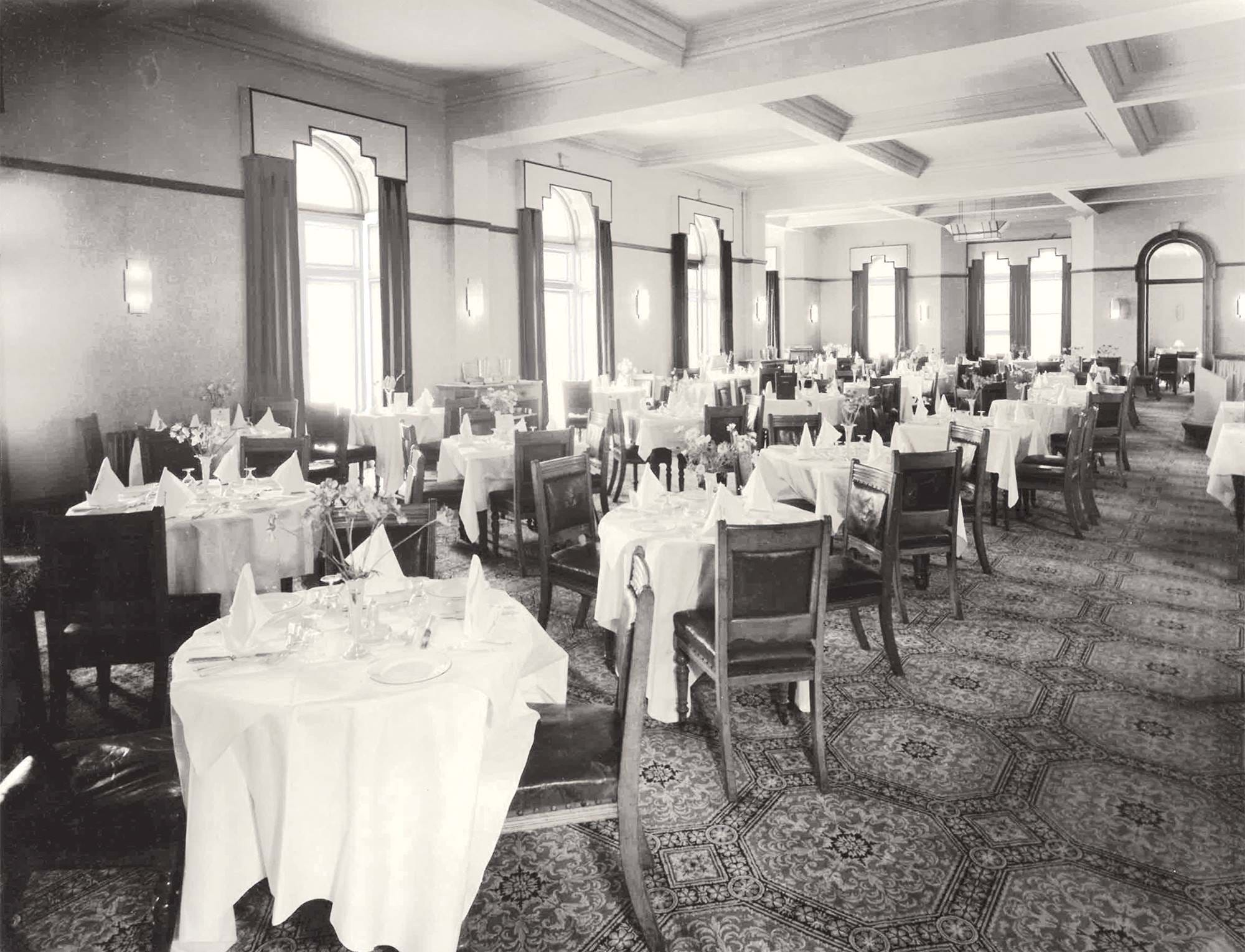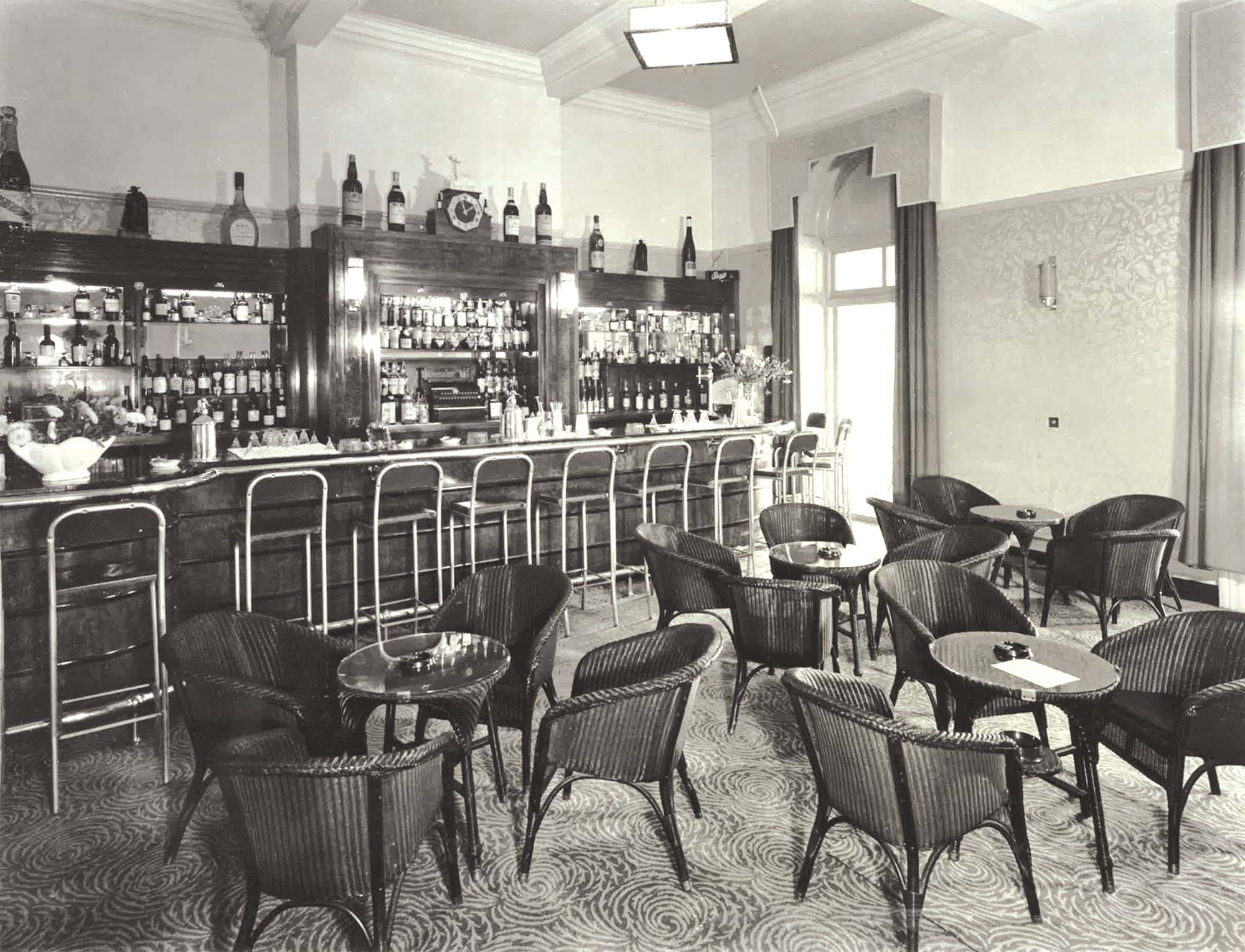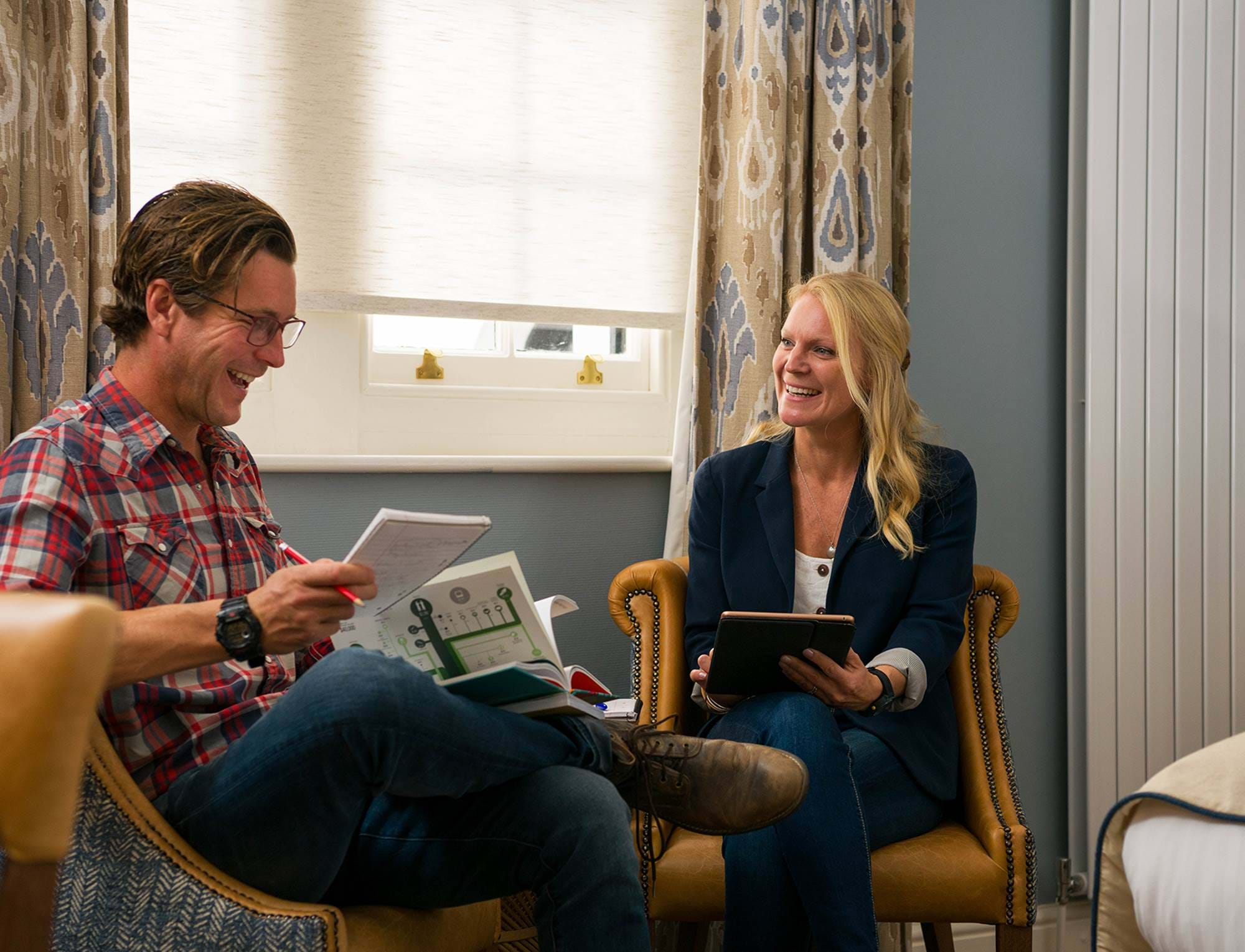 Our History
A tale of envy, arson, high drama and lofty ambition... and a happy ending.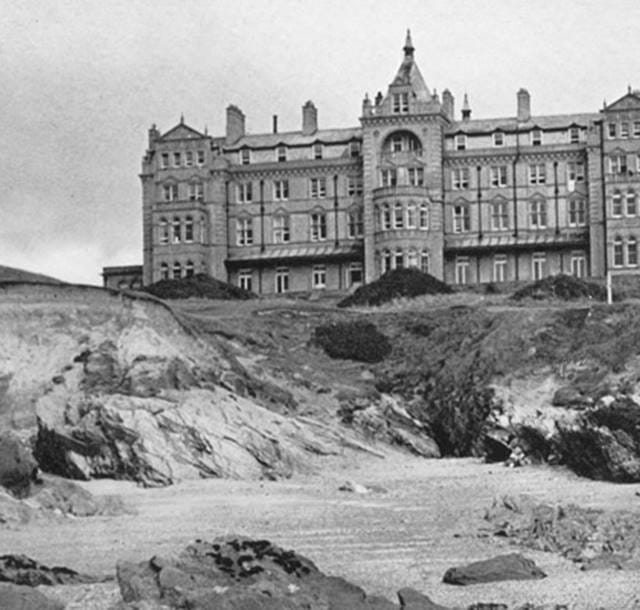 Since 1897
The Headland has been recognised as one of Cornwall's most iconic hotels. It stands commanding on the cliffs overlooking Newquay's famous Fistral Beach. Architecturally it is bold, original, unapologetic and majestic. Inside, it oozes opulence and old world charm, with perhaps a touch of decadence here and there. But the luxury facilities, the attentive staff, and the exquisite furnishings should not be mistaken for formality, or exclusivity.

At the heart of everything here is a warm welcome, a sanctuary where you can just be, do as you please (as long as you're respectful and kind, of course). Bring the sand in between your toes, with your bellyboard, lounge all day on The Terrace overlooking the Atlantic, a pint or a cocktail in hand. No one's judging.
It wasn't always like this
This air of easy-going, confident calm is a far cry from our stormy inception. From the beginning, The Headland's architect, Silvanus Travail, had a grand vision. He wanted Cornwall to rival the South Coast resorts. And to do it, he would create a seminal Victorian masterpiece as an audacious statement: this is how hotels should be. Turning every hotelier from Penzance to Portishead green with envy would, admittedly, be a bonus.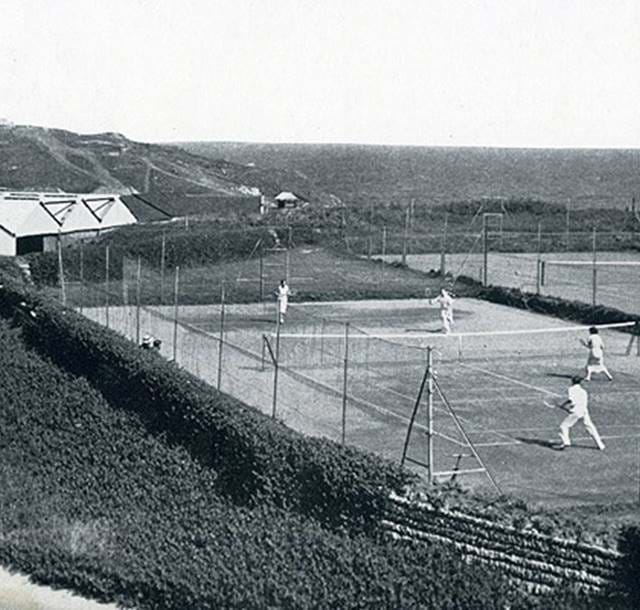 Arson, riots and furious fishermen
However, not everyone welcomed the idea of a new hotel on Newquay's Towan Headland, no matter how grand its owners claimed it would be. Local fishermen said the site was common land. They'd dried their nets here for generations, local farmers grazed their livestock for free. From the laying of the first bricks, heated arguments ensued and workers were threatened constantly. On one fateful night, an angry mob trashed the foundation walls and scaffolding before tipping the foreman's hut into the Atlantic. 
When Silvanus rushed to see the damage the next morning, the mob were waiting for him. He was pelted with eggs, pinned to a railing and, contemporary reports say, subjected to 'a very fierce outpouring of contempt and insolent abuse'.
With local builders too intimidated to cross the fishermen, 200 unemployed Cornish miners were drafted in to complete the project. But the opposition didn't let up. Fires were started, arrests were made, and Silvanus eventually even brought in traction engines armed with steam hoses to keep the rioters at bay.
Open for business (and pilfering)
Despite this shaky start, determination paid off and the main build was completed by 1898. Then came the interior design. When The Headland received its first guests in June 1900, jaws dropped at the sheer extravagance of this new hotel. It was the height of luxury for its time, with lavishly decorated rooms, hot and cold running water, electric lights and snazzy service bells for immediate attention to your merest whim. While new visitors loved the grandeur and the staggering views, the first manager loved helping himself to hotel stock. He was dismissed after six months.
Never stop getting better
As tourism grew in the region, The Headland became a destination hotel, a busy haven for the great and the good, complete with quarters for your own servants should you so wish. But the owners wanted to go further. A huge, high ceilinged ballroom was built to add further glamour. Its maple dancefloor was supported by 2,500 coil springs for ultimate comfort. London orchestras were booked, and the hotel proudly hosted BBC broadcasts of concerts and high society events.
Hotel life during wartime
World War II interrupted this golden period for Cornish tourism. The hotel played its part in the effort, and was requisitioned as an RAF hospital (from time to time former patients and nursing staff still come to see if the hotel is still standing.) On occasion, there have been reports of ghostly nurses wandering the corridors. These have not been substantiated but some of our kitchen team swear they've seen apparitions in the basement, and rarely work down there alone.
1950s-1970s: Decline and fall
The roaring twenties became a distant memory. Rationing, make-do-and-mend, an attitude of out with the past and in with the new - these all played their part in this once glorious hotel's dwindling reputation. Miserly owners and shortages of provisions caused serious problems and turned a building renowned for its warm embrace into a cold creaking relic. Guest capacity was slashed in half, paint peeled, wood rotted. Cornwall's former jewel in the crown was now about as glamorous as a soggy bag of cold chips.
1979 - today: Resurrection and Transformation
In 1979, John and Carolyn Armstrong bought the hotel. They are still the current owners. When they arrived, they took on the unenviable task of bringing it back from the brink. There were serious structural, decorative and business issues to address. Despite a lack of major working capital, they embarked on a labour of love that would take many years. Miles of grotty carpet - replaced. Cranky central heating - modernised. Saltwater damaged structure - rebuilt. They stopped at nothing to reinvent The Headland as it is now known today - a modern luxury hotel with a difference. And that difference is The Headland has all the trappings and facilities of top end, formal five-star hotels, with none of the attitude.
Four decades and £30 million of improvements and repairs have turned The Headland from a wreck to a multi-award-winning destination hotel, complete with 91 five-star bedrooms, a state of the art-gym, a five-bubble-rated spa, a six-pool Aqua Club, and three restaurants with (we think) the best sea views in Cornwall.
From Windsors to Witches
A list of former Headland guests reads like the most outrageous dinner party in history. In the early 1900s, King Edward VII and Queen Alexandra were the first royals to stay here. The former Prince of Wales, now HRH King Charles III, and Queen Consort have also enjoyed several visits over recent years.
Many TV shows and movies have been filmed here. The most famous of all is the 1987 production of Roald Dahl's The Witches. Angelica Houston starred as the Grand High Witch and, much to the excitement of the staff, we'd receive huge flower bouquets and phone calls from her then boyfriend, Jack Nicolson.
Rowan Atkinson played the hotel manager and caused a Mr Bean style calamity when he left the bath taps running in his room (the frantically knocking porter was told "go away, I'm asleep"). The flood wrote off much of the production team's electrical equipment on the floor below. Now, every year, thousands of guests from around the world visit to see their favourite filmset for themselves, and wide-eyed children still look for the mice!
The story continues…
Everything we do at The Headland is designed to make you feel at ease in luxury surroundings. And we'll keep finding new ways to achieve this because a desire for constant improvement keeps us on our toes and you happily relaxed. We want you to feel as though The Headland is an old friend. It doesn't matter how long it's been since you last met, you immediately feel comfortable. You can let your hair down, you can just be yourself. Together, you can share and create great memories.
If you were to take a hot air balloon ride over The Headland (it is possible, some of our guests have done it). this is what you'd see...A commanding Victorian hotel, lovingly looked after, still standing strong against the elements. It's surrounded by wild seas, stretching beaches, and wind-worn cliffs. Next to it, a bold modern building of glass, stone and water. Next to that, a little village of individually coloured cottages. All three areas are themselves, but sit comfortably together as a whole.
What you wouldn't see are the enthusiastic, friendly people who make the experience memorable for every guest, whichever part of The Headland they're visiting. All expansions of The Headland are guided by an overriding principle: it's not just what you offer, it's how you make people feel. This is The Headland difference, and it always will be.