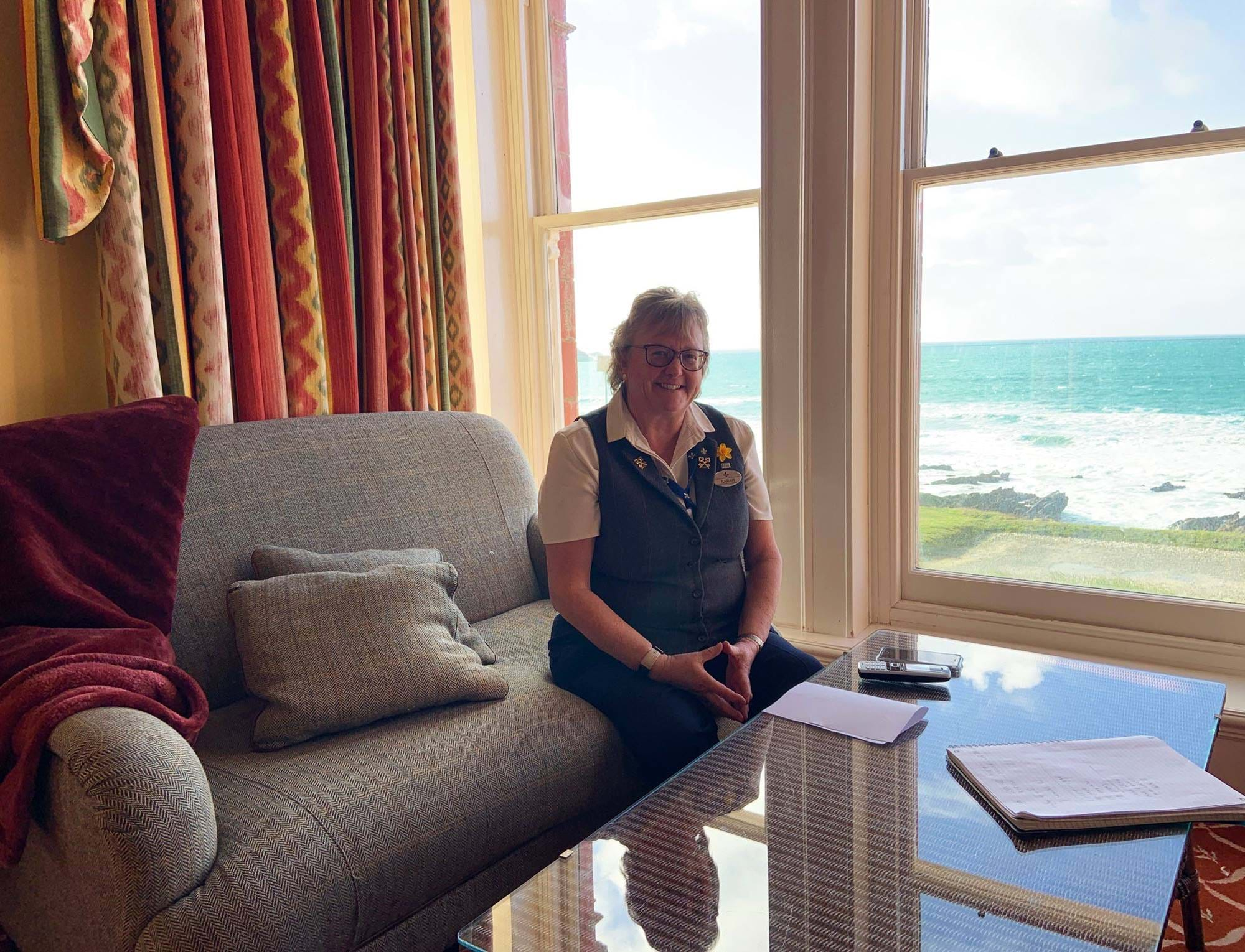 Time at The Headland: 11 years (and owner of a Cornish tin badge to reflect her 10 years of service)
Take five... with Sarah Gaskin - Head Concierge
1, Who or what brought you into the hospitality industry?
I was a detention officer in the police force for 12 years but I used to come to The Headland for holidays, so when I thought about a change of career, I applied for a job here because I loved it so much. I was accepted as a porter and became a guest host because I'm more of a chatterbox than a lifter and a shifter, before becoming concierge and head concierge.
2, What are your main roles and responsibilities?
I meet different people every day and each day is different. It's hard work because I'm on stage make your holiday and be happy. My job is to do anything a guest wants. If you want a helicopter trip to Penzance or a boat trip to scatter your mother's ashes, I can make that dream come true. I had a lady who sadly had terminal cancer and she wanted to go on a flight around Cornwall and over the hotel. Because of her illness it was tough to get insurance but I managed to speak to a pilot who I knew at the airport and he said bring her down in an hour. She flew over the hotel and took a photo of me on the step. I like difficult things to fix and I don't like failing. If you want it, I get it.
I'm the only member of Les Clefs D'or (golden keys) in Devon and Cornwall, an international society for hotel concierges. I can network with 4,000 concierges around the world – there are 260 in the UK, but only seven females.
3, What would you like to be doing in five years' time?
I might be retired as I'll be 62 by then. I'm part time now but I love home time and a good work-life balance, so I may like to be at home a bit more. I don't want to give my golden keys up though, which I'll have to do when I retire.
4, What's your favourite thing about working at The Headland?
I love being here every day. We all get on well and socialise together, we're all good friends – the guests are so lovely and every day is different. There's no one day that's the same. It's never boring because I don't know what I am going to be asked. In 11 years I haven't once thought 'I don't want to go to work today'.
5, What do you like to do when you're not working?
I'm a bit of a home bird. I've just done an extension on my house so that's taken up a lot of time. We got a lockdown puppy which keeps us busy, so we take him on some fantastic walks in the area. I also love cooking for friends and just generally keeping busy.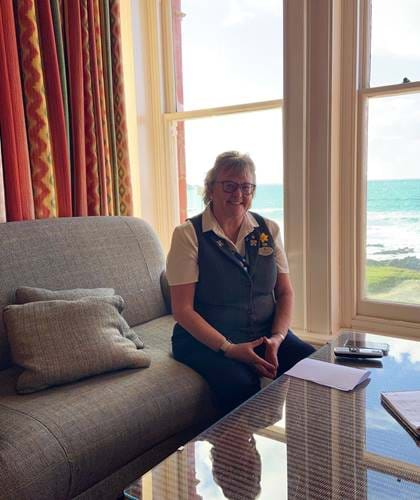 Get to know Sarah Gaskin who is our award-winning Head Concierge.