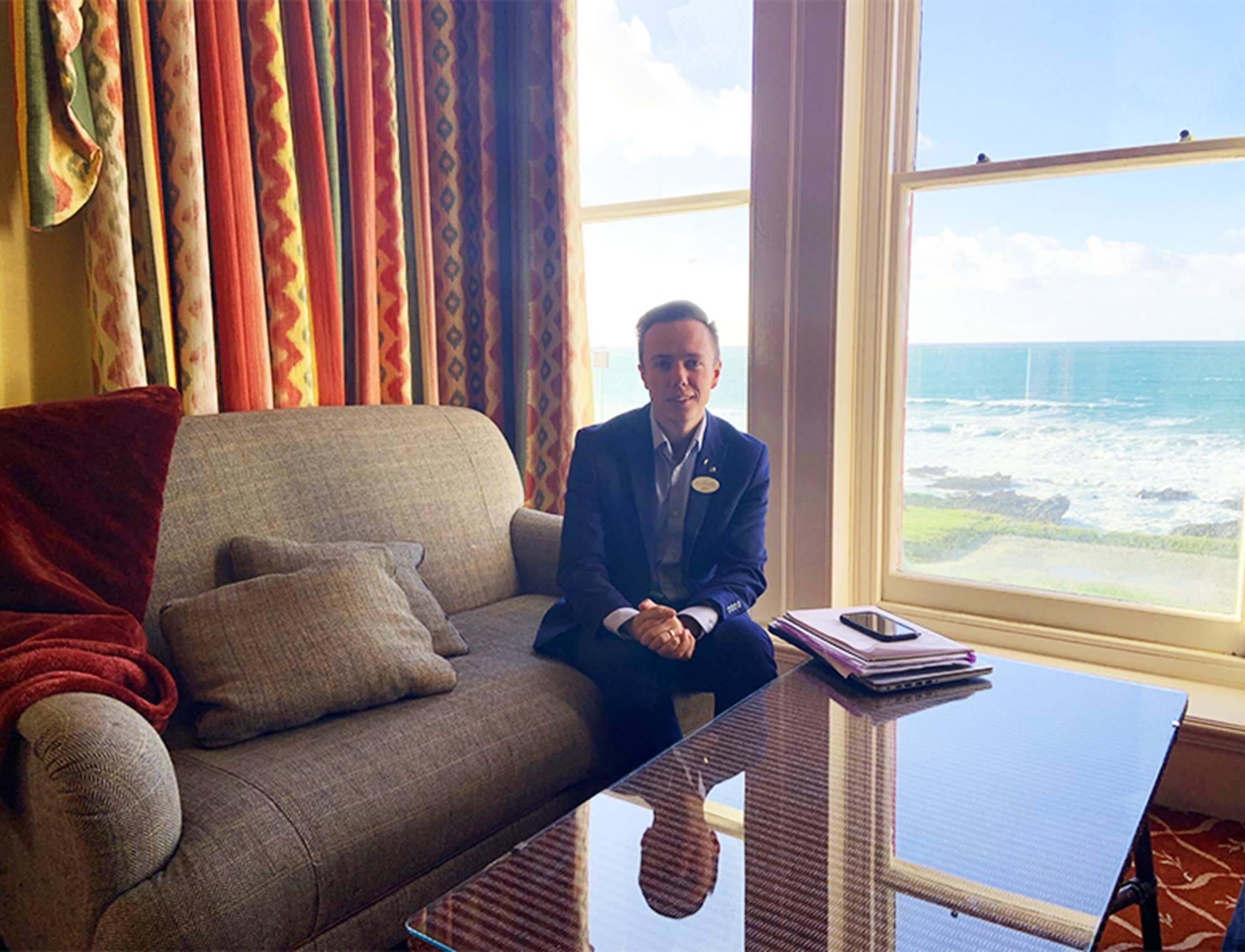 Time at The Headland: Almost 5 years
Take Five... with Joshua Bates - Hotel Operations Manager
1, Who or what brought you into the hospitality industry?
I had a summer job as a waiter, where my partner was working at another Newquay hotel. I ended up leaving three years later as the catering manager. I had got a degree in media and social psychology so I wasn't planning it, but it just kept going. I stuck with it because it's a sociable job – they are a nice bunch here.
2, What are your main roles and responsibilities?
Overseeing hotel operations focusing on the guest journey. Reservations, checking in, dining in the restaurant, bedroom. You need to keep an eye on guest trends. Items you put in the rooms need to have a sustainability. The service changes but the hospitality stays the same. The welcome, the feel, the experience is really from the family to the staff.
3, What would you like to be doing in five years' time?
My next step up is deputy and GM. I would hope to be here in a larger role or in another business in a larger role. I like to see another team member doing my role – it's almost good to be pushed out of a role by someone beneath you who is eager and hungry, because if you leave a business without that cover, it diminishes all the good work you've put into it.
4, What's your favourite thing about working at The Headland?
The team. You can't have the guest experience without the staff and they genuinely care. The hours they are willing to put in, they have the right work ethic and personality. It's a great support network you get which you don't necessarily get from family or friends. It's almost like a secret club!
5, What do you like to do when you're not working?
Walks and local attractions, depending on time of years. Lockdown brought out gardening – I don't know where that came from but managing something that you see grow and flourish, it's probably something to do with how I want to lead and manage people here. We have quite a lot of team members who have moved here for the lifestyle.